SEO Basics - 7 Things You Need To Rank Better

7 min read
20-Aug-2019 8:49:00 AM
Here's the deal, search engine optimization (SEO) can be challenging to master, but if you don't start with the SEO basics you have no hope of ranking.
It's true, search engines are always updating their algorithms in an effort to serve you the most relevant content. However, there are 7 things that have always been critical ranking factors and chances are you're overlooking them.
In this article, we're going to take you through these 7 basic aspects of SEO so you can start improving your search rankings right away. We're going to try and leave the really technical SEO aspects at the door and focus just on the basics of on-page SEO so you don't have to rely as much on paid search ads to grow your business.
We'll be showing you screenshots of HubSpot, WordPress, Yoast! SEO plugin for WordPress and SEMRush. There are hundreds of tools out there that will do the same things as these two so pick the one you feel most comfortable with.
Focus Keyword
First thing first, you are not going to rank for a phrase if you don't have a page dedicated to it. If it's a product or service you sell, make a dedicated page for it. If it's a concept, challenge, use case, etc. write a blog about it.
For each page, focus on one keyword or phrase. Don't try to fit your whole product catalogue onto one page and expect to rank well for every item. It's not going to happen.
As an example, this page is optimized for the keyphrase SEO basics. Sure, there are 1,000's of related topics and keywords but the purpose of this blog is to show up for people searching for SEO basics. If I want to attract an audience looking for a similar topic like how to optimize their images for search engines, I would write a different post for that… Oh wait, I did - How to Optimize Your Website Images for SEO
Some great tools for helping you conduct keyword research include SEMRush and Google's Keyword Planner.
Titles
There are two different types of titles on your pages and blogs. One is called an H1 Header or H1 Title, and the other is your Page Title.
H1 Header
Your H1 Header is typically the visible title you see at the top of a page. In the case of this page, it's "SEO Basics - 7 Things You Need To Rank Better". They call it an H1 Header because if you were to look at the code for this page you would see the title between two H1 tags:
<h1>SEO Basics - 7 Things You Need To Rank Better</h1>
Search engines like Google use your H1 Header to help identify what the page content is about. To set your title as the H1 Header, simply highlight the title within your text and from the style drop-down, select the Header 1 option.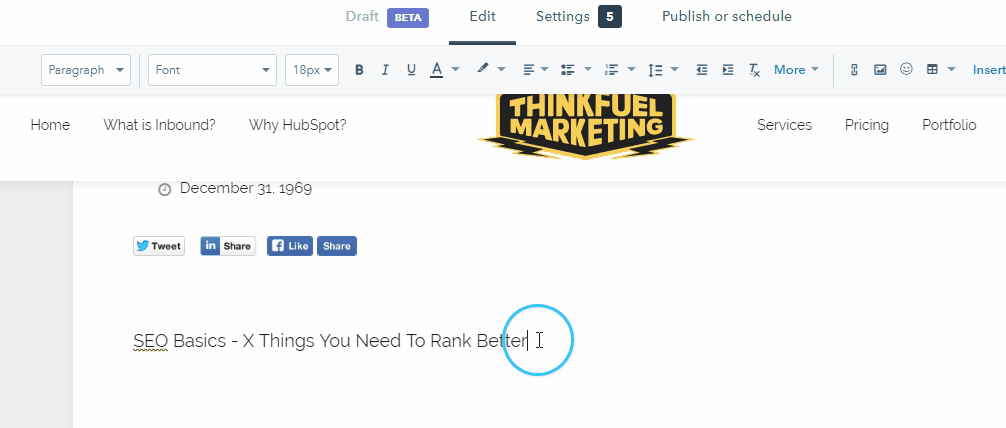 Page Title
The second title you need to adjust is the page title or title tag. This is the title that shows up in the top bar of your browser:

And in the results page of Google.

Your page title can be updated and modified in a number of different ways, one of the easiest ways to customize it is through the Yoast SEO plugin. When you install the Yoast plugin, all you need to do is open the page or article you want to modify in WordPress, scroll down to the Yoast SEO section, click Edit Snippet, and enter your SEO title.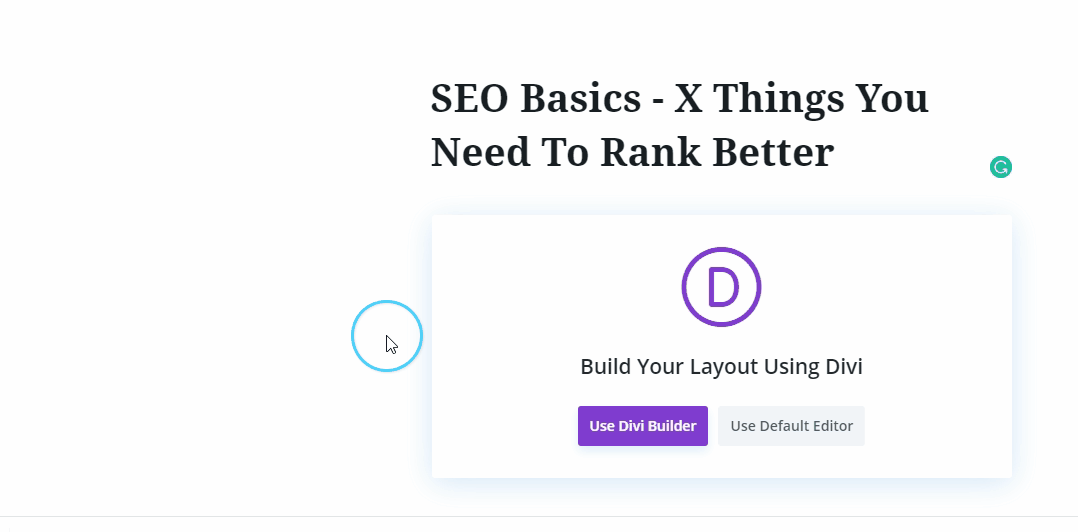 Best Practices
When you're writing your H1 headers and title tags be sure to follow these simple tips:
Your H1 should be between 20-70 characters
Your title should be between 50-60 characters
Include your focus keyword near the start of the H1 and title
They do not have to be the same. Your H1 and title can be worded differently as longs they both contain your focus keyword
Meta Descriptions
Meta descriptions are small blurbs that tell search engines more detail about the page/content. They are also the text that shows up in your Google search results:

If you're using Yoast, you can add a meta description following the same steps as adding the title tag. If you are using HubSpot, you can click on the settings tab, then enter your meta description in the field provided: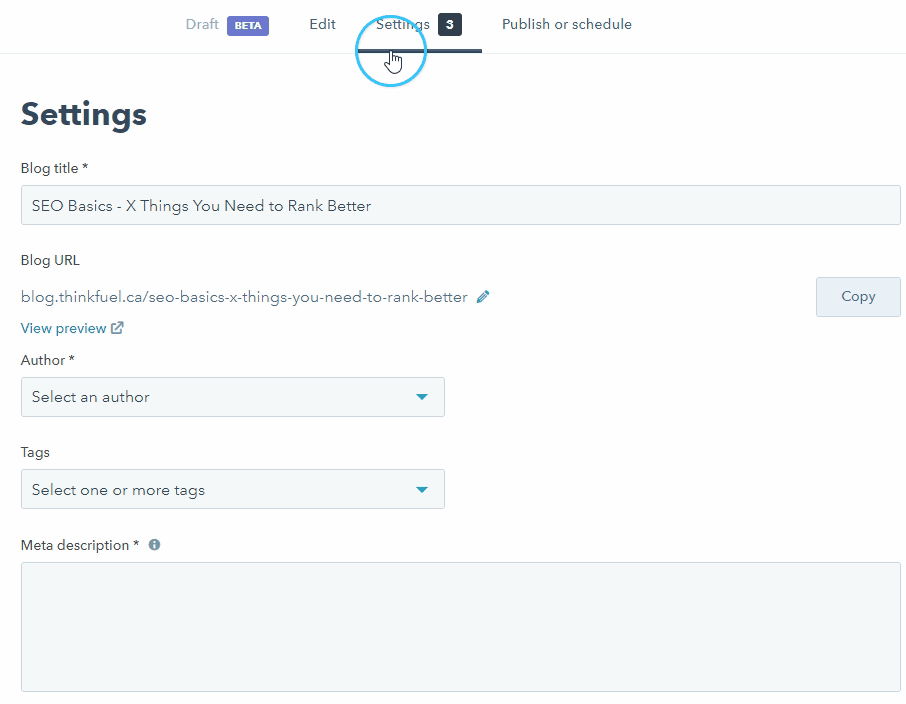 Meta Description Best Practices
Keep your meta description between 120-158 characters
Remember, this is the description people see in Google search results so make it compelling and let the reader know what to expect
Include your focus keyword in the meta description and position it near the beginning of the description.
Optimizing Images for SEO
This is an important step but I'm not going to re-invent the wheel here. Check out the article we wrote on How to Optimize Your Website Images for SEO
Internal Links
Your website should be like playing six degrees of Kevin Bacon (Harvey Keitel to Kevin Bacon… Go!). By this, we mean all your related pages should be connected with internal links.
You know all those blog posts you write as part of your content marketing strategy? They won't be nearly as impactful from an SEO perspective if you don't make it clear to search engines how they are related to other pages and focus keywords. Search engines are machines, they are literal, and we need to make things clear for them and we do that through high-quality internal links. When you create internal links there are three things you should keep in mind.
Don't overdo it. Articles that have massive amounts of internal links look spammy to search engines and readers, and as important as SEO is, we still need to create a great user experience.
Try to stick to related topics and keywords with your internal links. For instance, in this article, I may want to link to a page outlining what's covered in our SEO services, but I wouldn't necessarily link to a page about Sales Enablement because it's not directly related to SEO.
Be mindful of your anchor text. Anchor text is the wording that appears highlighted in your link. Anchor text should include the keyword of the page your referencing and it should be clear to the reader what they are going to find if they click the link.
So, next time you're creating content for your site, remember to include internal links.
Ok, we lied. I said we weren't going to get into advanced or technical aspects of SEO but the next two items are important to your ranking factors. Let's be clear though if you tackle everything above this section, you'll be ahead of most people. If the last two items are too technical, ask for help.


Link Building
Linking building is an important part of SEO. Search engines don't just care what you have to say about yourself but what other people on the web are saying about you as well.
Link building is the process of getting high-quality links on external websites that point back to yours. Unfortunately, this isn't as simple as sharing a bunch of content on social media. Some of the best ways to grow your backlinks include:
Submitting your site to high-quality directories. This helps in two ways, the first is obvious, it helps build your backlink profile. The second is it helps to improve your local SEO because these directories verify your business name, address and phone number in multiple locations across the web. You want to avoid submitting your company to low-quality "link farm" type directories. Instead focus on well know, reputable, directories. HubSpot has a great article on this with 50+ local directories you can trust.
Press releases are another great way to build your site's authority. When you distribute press releases to the media they typically include backlinks to your site that carry a lot of SEO value with them.
Guest blogging. This is the process of writing blogs to be posted on other websites with a link back to your site (preferably within the article, not in the "about the author" section).
Link building can be one of the most powerful, but at the same time, the most difficult SEO tactic to you can employ. If you want to learn more about it, please feel free to contact us about our link building / authority building services.
Page Speed
The last thing we're going to touch on is your mobile page speed load time. This is essentially how long your site takes to display on a mobile device.
Back in 2018, Google announced that they were going to use the mobile version of your website as the primary resource for measuring your site's ranking factors and specifically mentioned load speed as a main contributor. Google has a really handy Page Speed test tool that will let you know how well you're site is doing. Just don't freak out when you score in the yellow or red zones, most people do.
We won't get into every detail of what this tool reports on and how to fix them. If you're not a web developer, I highly suggest you just pass the results along to your developer and ask them what it would take to improve.
So that's it. We've come to the end of our SEO basics overview. Hopefully, we've shed some light on the mysteries of SEO and given you some actionable ideas to implement on your own site.
Related Articles You May Be Interested In