SaaS SEO: Why Software Companies Are Leaving Facebook Ads Behind

6 min read
14-Sep-2020 9:45:00 AM
Is SaaS SEO the Answer to Your Marketing Budget Woes (Hint: Yes!)
Jump to:
You've poured countless hours, blood, sweat and tears into developing your new SaaS application and you're ready to share it with the world.
So you do what you've always done—create an ad campaign on Facebook. But this year, things are different...or should we say, pricier.
Facebook advertising is on the rise (an excruciating 90% YoY price jump to be exact).
It doesn't matter if you're a SaaS startup or you've been growing gangbusters for five years. Budgets aren't infinite, and spending your digital marketing dollars requires smart decisions.
The world of B2B Software as a Service (Saas) starting leaning on something familiar in 2020. That something was SEO.
B2B SaaS SEO is so big that there are best practices designed for SaaS SEO specifically.
More on that later.
Let's talk about why you should sit your Facebook ads in the corner chair for a bit.
Marketers Are Getting Priced Out of Facebook Advertising
Rising ad costs aren't fun or unexpected. But when your favourite platform doubles its rate each year, that's poop in your cornflakes.
Ad spend is on the rise not because marketers are buying more ads. Ad spend is on the rise because marketers are trying to afford the ads they've always had.
And we're losing sleep about it.
One study shows 85% of marketers (with six-figure ad spend) are worried about this expensive trend. And nearly half (47%) say they'll be priced out of paid Facebook advertising if costs continue to increase.
How is it affecting digital marketing for B2B SaaS businesses? Well, there's a shared sentiment among MarTech companies:
"Facebook has been a huge channel for us, but we like to operate like it's going to disappear tomorrow. So, what does that mean? Taking full advantage while it's here, but also looking at new channels and investing where we think attention is going." -Bret Fredrickson, Marketing Manager, Vuori
Investing in new channels where the attention is going. Hrmmm….
Where's that?
SaaS SEO is the Future (and the Now)
Let's face it — paid ads are disruptive.
You're scrolling through your social media feed and boom — an ad pops up (albeit relevant to your interests, but still unexpected, and usually unappreciated).
With SaaS SEO, you're using inbound marketing to drive traffic. In other words, prospects who are looking for you will find you. No disruptive door knocks.
SEO isn't a novel idea. It's the old horse on the farm. But the advertising landscape is shifting. SaaS companies are dusting off their saddles and giving this older, but effective, technique another look. Because it's cheaper.
The long-term benefits of SEO have always been important. It's simply a slower game.. The faster game (ads) is the short-term game. When your ad budget on Facebook is reached, your ads are removed and, with it, your traffic and conversions.
Not with SEO.
But don't take our word for it.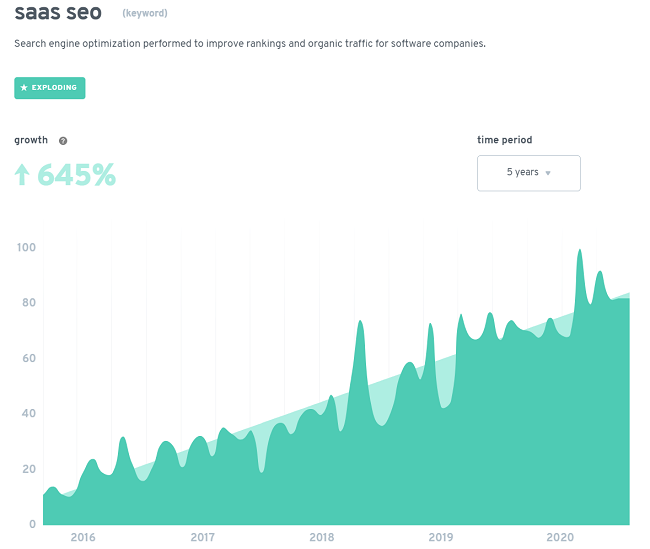 The rise in interest for SaaS SEO is steep. Software companies are showing increased demand for a reason — it works.
Just look at the major traffic sources for SaaS companies.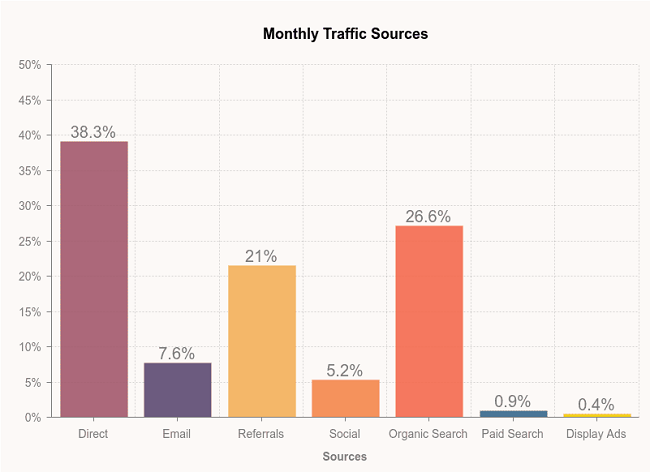 The top three contenders are direct, organic search, and referrals. And way at the bottom is none other than paid search and display ads. Email and social media marketing does better than ads.
Side note: If your content marketing is on point, you'll grow your email lists (which has up to a 4,200% ROI, by the way) and build your social media presence.
Of course, the quality of your traffic plays a critical role in your conversion rates, which brings us to our next point.
Adhering to SaaS SEO best practices.
Before diving into the nitty-gritty, let's review how well SEO works for major SaaS businesses (and startups).
SaaS SEO Case Studies (Because Proof is in the Pudding)
HubSpot
One of the go-to digital marketing tools for B2B companies is renowned for its inbound marketing techniques. Not only does HubSpot have mountainous volumes of content covering the topic, but they have free courses on it as well.
SEO was always part of HubSpot's strategy, and it's paying off now.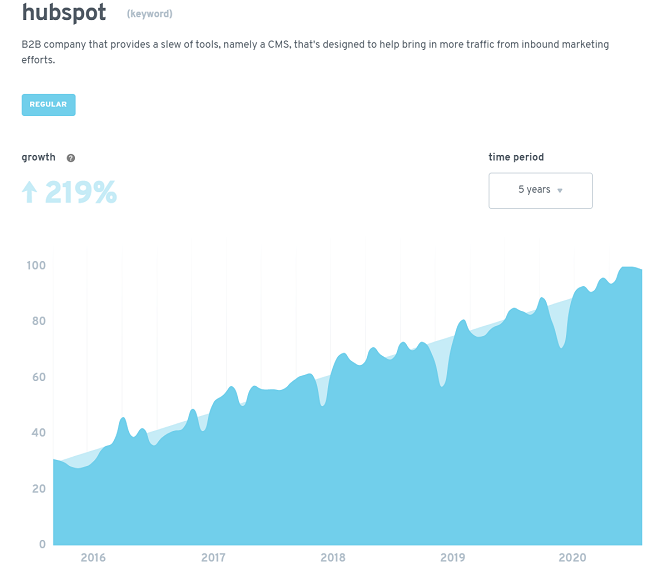 Search volume for the term "HubSpot" increased by 219% the past five years because B2B businesses see inbound marketing works.
HubSpot's remedy:
A pinch of social media, a dash of SEO, and a sprinkle of blogging (aka content — and lots of it).
This is what the Founder/CTO of HubSpot had to say about its inbound marketing strategy:
"We've found that the cost for leads generated through our content efforts is lower and the quality is generally higher than our paid channels, so we continue to increase our investments in this area."
But it's not always large volumes of content that translates to awesome results.
Mailshake
Mailshake spent six months working on a single piece of content. And guess what:
It's now generating six figures in sales.
Now, this piece of content is beyond a simple blog post. It's a massive how-to guide on cold email outreach for sales—The Cold Email Masterclass.
It catered to a specific audience, who then converted into customers because they had the perfect tool to help them achieve their sales goals.
A year after publishing, Mailshake witnessed over 50,000 new website visitors and 590 paying customers (at $19/mo, that's not too shabby!).
Of course, there's more to it than hitting publish and waiting for visitors. Mailshake set into motion a marketing plan that involved a launch, heavy promotion, review generation, and influencer outreach.
Mailshake believes in content marketing because it works. Look at how much their search volumes increased recently.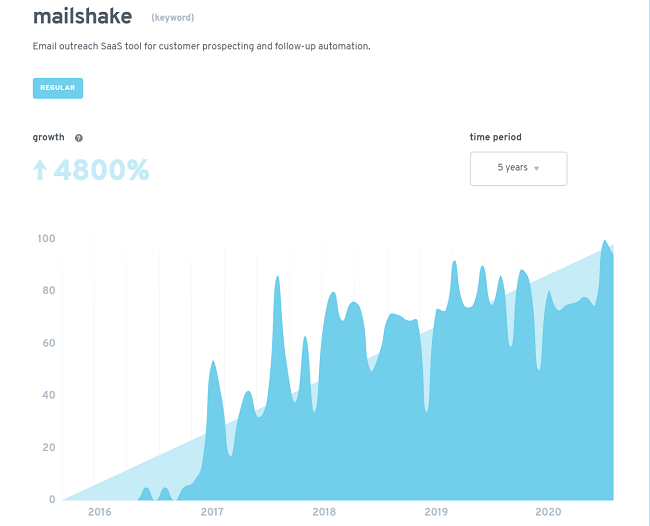 (Somebody's building authority quite nicely!)
B2B companies are looking to work with SaaS companies that help boost their traffic and sales organically.
SaaS Startup ecruit
You may be thinking:
Content marketing works, but it works best for the big SaaS companies.
Not true.
Take ecruit (that used HubSpot).
The startup focused on content creation and social sharing, which aided their SEO efforts to build an online presence and authority. This grew their email list, which they nurtured into sales.
The end result: increased website traffic and improved rankings.
"Since June 2017, we've had six large customers come purely through the HubSpot and content marketing route. One of these customers has bought from us three times, and another twice. Our content and Inbound Marketing system is helping us find leads who are turning into repeat customers." - Ben de Grouchy, Founder, ecruit.
Is SEO for SaaS Any Different than General SEO?
In a nutshell...yes.
Here are some ways SaaS SEO is unique:
You're remote, so no need to localize keywords (i.e., Los Angeles Car Dealer)
Technical SEO is critical for SaaS sites with Javascript (to ensure crawlability by search engine bots)
There's more competition from indirect competitors (think Capterra)
So what are the SEO best practices for SaaS brands?
Identify your customers' problems (your content topics)
Build a keyword strategy (for each stage of the funnel)
Find product keywords to optimize website pages
Create product comparison blog posts/videos
Build a content map for your site
Implement technical SEO
Build internal and external links (to reputable/non-competition sites)
Add insightful descriptions to your product pages
Create relevant (and optimized) landing pages for your products
Develop resource lists for your customers
Keep URLs short and keyword-optimized
Keep content fresh and updated
It's a lot of work for a busy SaaS company. That's why growing SaaS companies outsource that work to ThinkFuel.
ThinkFuel is an inbound marketing and sales enablement company that helps SaaS businesses generate leads, acquire customers, and gain a competitive advantage.
We do this with the powerful marketing tool, HubSpot—along with our creative insights, of course!
What separates us from the competition? Our methods work:
This customer saw a 110% increase in traffic and a 140% boost in leads. Pretty spiffy. That's our bag and we love that bag. So if that's not your best bag, but you're looking to generate more qualified sales leads, then give us a ding.
Your competition isn't waiting around, and neither are your prospective customers. The question now is — are you going to continue riding the rocky waves of Facebook advertising? Or are you going to jump ship before it sinks your SaaS business?
Book a no-obligation appointment with us today to get started.